Conditions & Treatments
Dr. Hoag utilizes some of the most modern technology in the field of chiropractic to work on the spine. The technique is called the Pierce System. It incorporates the use of a computerized adjusting instrument that analyzes the spine and specifically works on only the vertebrae that are misaligned. This instrument gives various readings that help in detecting, correcting and monitoring the improvement of vertebral misalignments or subluxations. The treatment or adjustment to the spine is given based on specific information obtained from the doctor's examination, x-ray findings, and the instrument's feedback.
During an adjustment, the instrument uses a repetitive tapping motion to move the vertebrae back into place. The amount of force that can be used varies from very light to very strong. Because of this, a wide variety of people can be effectively worked on, from children and the elderly, to serious athletes.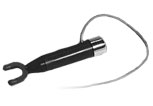 The Pierce System of chiropractic care is available at Optimum Health Chiropractic. It is one of the most recent technological developments in chiropractic care, this instrument assists in detecting, correcting, and monitoring vertebral subluxations. It offers a gentle method of spinal alignment correction.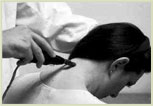 An analysis is performed each patient visit which provides a history for each patient's pattern of correction.

The adjustment is then given based on specific feedback obtained from both the doctor's examination and the instrument's feedback.
Conditions Treated
Auto Accidents
Carpal Tunnel Syndrome
Chronic Pain
Headaches
Hand & Foot Pain
Sciatica

Lower Back, Leg & Hip Pain
Neck, Arm & Shoulder Pain
Migraines
Muscular Imbalances
Numbness & Tingling in Arms Legs & Hands

Disc Problems
Sports Injuries
TMJ (Jaw Pain)
Whiplash Injuries
Work Related Injuries
Now Offering Animal Chiropractic!
Now Offering Cold Laser Treatment!
Join us for our
stretching classes
Set up a free consultation today!
Call us at (919) 414-6201.